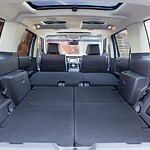 If you want a mid-size SUV packed with convenience features, then you will want to get behind the wheel of a Ford Flex. In fact, the Flex offers some features that you would not expect. Here is a look at two top convenience features.
When you want storage space, you can rely on the Flex to deliver. In fact, there are up to 83.2 cubic square feet of space behind the first row and up to 43.2 cubic square feet of space behind the second row. That lots of space for a mid-size SUV.
Now you can program one key fob to accommodate two drivers. With the MyKey feature, you can set speed limits, sound system volume limits and fuel alerts for each individual driver.

Get your Ford Flex deal today

?We are ready to make you an exciting offer on the Ford Flex of your choice. Take a test drive today at Richardson Ford Inc. Discover why the Flex is one of the most driver-friendly mid-size SUVs on the road today.